Extending and shortening reservations is now easier than ever with apaleo
Guests change their plans often. You know this better than anyone, with frequent requests to change arrival and departure dates. That's why we've made it as simple as possible for you to make the changes when you get them. While at it, we also improved reservation views to display all the information you need, right where you need it.
The new travel dates section in the reservation details shows all the info you need about a reservation in an improved and intuitive layout:
1. Quick view of general information, including number of guests, stay dates, the applicable cancellation policy and minimum guarantee
2. Calendar view of each booked night of the reservation, including the rate, rate plan and unit group
3. The assigned room for each night, highlighting if a unit from a different unit group is assigned
4. For inhouse reservations, a simple way to differentiate between past, ongoing and future time periods
To extend or shorten a reservation use the action buttons at the top to trigger the flow.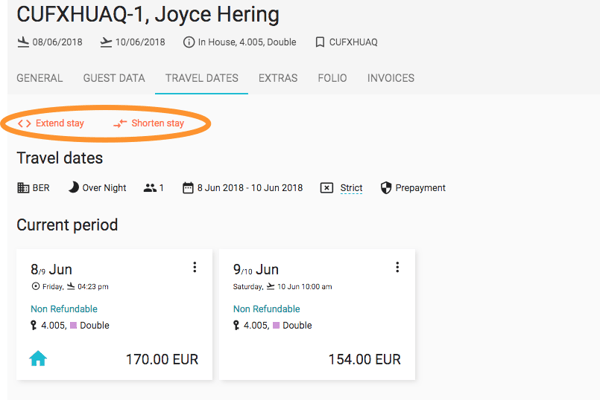 Extend the length of the stay
When your guest can't stand to part ways and requests a longer stay (or an early arrival), you can simply start the extend reservation flow. The days you can choose for the new arrival and departure are restricted based on the reservation status and current stay dates, making it impossible to make a mistake.
When extending, you don't have to stick to the rate plan of the original reservation. Choose a pre-set offer from a list of alternatives, and you will see a preview of the reservation after the changes would be applied. After confirming the selected offer the reservation will be extended and you are done!
Shorten the length of the stay
Shorting a reservation is even easier with the new flow. Select the new arrival and/or departure dates by clicking on the cards in the calendar view and confirm the changes.
Manage Extra Services
To manage your extra services, we've introduced a new tab on the reservation details.
This allows you to book services globally for the whole reservation. It is the first version, and there is more to come in the next weeks.
What´s coming up next?
We aren't done yet! There are other things that you may want to amend for existing reservations. We're thinking upgrades to the unit group, changes in the number of people for which a reservation is made, the ability to check alternative prices so that you are always offering the best rate, and so on. Stay tuned for these details in our next release notes.